Windbreaks and Terrace Screens
Windbreaks and terrace screens from Terrazzo are the perfect solution to redefining your outdoor space.
Great for restaurants, cafés and hotels, our elegant and easily brandable windbreaks and terrace screens draw customers in by creating secluded and inviting terrace eating areas, whilst also enhancing your presence on the high-street.
Designed and manufactured in Italy, our unrivalled range of windbreaks and terrace screens cut down street noise and wind and give your valuable outdoor space real impact and exclusivity.
Our free in-house design service is available to help you work out exactly what you need to create your perfect outdoor space. We can also incorporate planters, menu boards, lighting and eco-friendly weathersafe heating to create the stunning space you're looking for.
Why choose our windbreaks and terrace screens?
Our most popular terrace screen system.
Exciting cosmopolitan two way planters.
All year round Naturally Attractive Planters.
Fully glazed modules for creating a completely open, barrier-free outdoor area.
Modular windbreak that can can be easily raised or lowered and provide complete weather protection.
Modular windbreak for maximum comfort in both winter and summer, thanks to the foldable top panel.
Elegant, contemporary with soft lines.
Classic curves ideal for traditional and architectural forms.
With wavy top lines these are a Coastal Favourite.
Portable, versatile & easy to convert from winter to summer mode!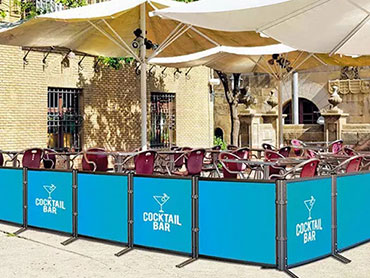 The great solution for secluding off areas where traditional windbreaks cannot be used.
Modular Screen with Menu Board
A brilliant way to put your product on the street!
Attractive flower box with base to match the terrace screens.
Free-standing or attached to StarUp&Down or Total Vision modules.