New modular, fully glazed structure produced using a brand-new technique and allows the creation of a completely open, barrier-free outdoor area.
The design and optical effect of the Total Vision terrace screens enhance the elegance and transparency of the structure and your outdoor space.
An LED strip can also be installed at the base of the module to give a pleasant lighting effect to the terrace.
1000–2000mm x 1800–2500mm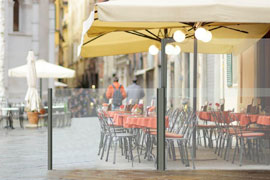 1000–2000mm x 1800–2200mm
1000–2000mm x 1500–1800mm
Why choose our windbreaks and terrace screens?